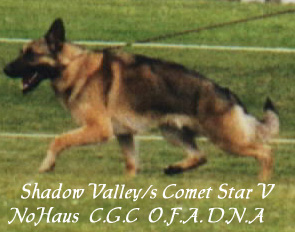 ShadowValley's Comet Star V Nohaus, C.G.C., O.F.A., D.N.A.
Sire: SEL. Am.Can. Ch. Bredwel Jakester Of Joelle CD.TC. O.F.A
Dam: U.K.C CH. ShadowValleys HighSierra.C.G.C
Comet Star is the Sire to both Nadia and Lyndi who are pictured below.
AVAILABLE FOR STUD: $400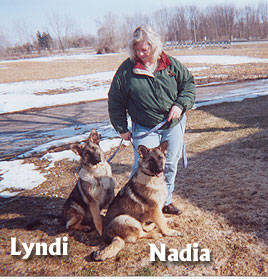 ShadowValley's Symphony (Nadia) and ShadowValley's Echo V Madolin (Lyndi), both currently 6 months of age, and both out of Sire ShadowValley's Comet Star, C.G.C., O.F.A. Dam Detmer's Echo Echo Echo, O.F.A., Grandsire SelAmCan. Bredwell of Joelle CD. TC. O.F.A.
Our Nadia has already made a name for
herself by winning the 3-6 month Puppy class in Ann Arbor, Michigan